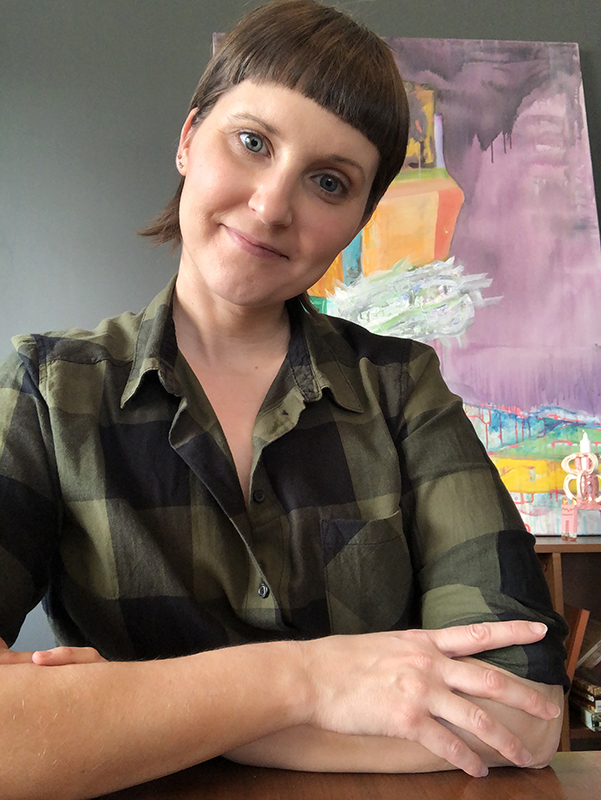 Jessika Edgar
Assistant Professor, Area Coordinator of Ceramics
313-577-2990
Rm 60.2, Art Building
Biography
Jessika Edgar is a ceramic artist based in Metro Detroit. Her research focuses on concepts related to identity and value through an investigation in contemporary craft and sculptural abstraction. Raised in both Western Massachusetts and Southern California, Jessika has an MFA in Ceramics from Cranbrook Academy of Art (2011), an MA in Studio Art (2009) and BA in Studio Art (2008) from California State University Northridge.
Jessika has exhibited nationally and internationally. Her work has been featured in exhibitions at The Katherine E. Nash Gallery, Regis Center for the Arts, University of Minnesota, Minneapolis, MN, David Winton Bell Gallery, Brown University, Providence, RI, Ceramic Research Center and Brickyard Gallery, Arizona State University, Tempe, AZ, Jawahar Kala Kendra, Jaipur, India, El Paso Museum of Art, El Paso, TX and Museo de Arte de Ciudad Juárez, Ciudad Juárez, Chihuahua, Mexico, and Gyeonggi Museum of Contemporary Ceramic Art, Icheon-si, Gyeonggi-do, Rep. of Korea. She has been awarded residencies at Guldagergaard: International Ceramic Research Center, the Banff Centre for Arts and Creativity, Wassaic Projects, the Woodstock Byrdcliffe Guild, and A.I.R. Vallauris.
Areas of Expertise
 Ceramics 
Handbuilding
Throwing
Mold Making and Casting
Glazing and Firing
Degrees and Certifications
MFA, 2011, Cranbrook Academy of Art
MA, 2009, California State University Northridge
BA, 2008, California State University Northridge
Courses Taught
ACR 2550: Introduction to Ceramics
ACR 3550: Intermediate Ceramics
ACR 4000: Ceramic Multiples I
ACR 4550: Advanced Ceramics I
ACR 5000: Ceramic Multiples II
ACR 5550: Advanced Ceramics II
ACR 5880: Directed Projects in Ceramics
ACR 7550: Graduate Problems in Ceramics
ACR 8880: MFA Studio: Ceramics
Find details about these courses HERE. 
Recent Publications
Selected Exhibitions
2021
Korean International Ceramics Biennale (KIBC), Gyeonggi Museum of Contemporary Ceramic Art, Icheon-si, Gyeonggi-do Province, Rep. of Korea
Artifact. Manifest: A Non-Profit Creative Research Gallery and Drawing Center, Cincinnati, OH
2020
Now, more than ever. Wassaic Project Summer Exhibition. Maxon Mills Gallery, Wassaic, NY: https://www.wassaicproject.org/exhibitions/now-more-than-ever
Utopian Living: Byrdcliffe Artist in Residence 2019. BYRDCLIFFE Kleinert/James Center for Arts, Woodstock, NY
Materials: Hard + Soft. International Contemporary Craft Competition. Second Place Award. Greater Denton Arts Council, Patterson-Appleton Arts Center, Denton, TX
2019
Work, Practice, Play. Clamplight Artist Studios and Gallery, San Antonio, TX
The Form Will Find Its Way: Contemporary Ceramic Sculptural Abstraction. NCECA Annual Exhibition, Katherine E. Nash Gallery, Regis Center for Art, University of Minnesota, Minneapolis, MN
Michigan Mud 2019 Presenters Exhibition. Holding House, Detroit, MI
9 Hours: a live stream from Detroit, projected into Bert Green Fine Art, Chicago, IL
Inspired: Baralaye, Cromwell, Edgar, McDonald. Pewabic Pottery, Detroit, MI
Roy G Biv Family Reunion. Roy G Biv, Columbus, OH
We Live Here. 1301 Broadway, Detroit, MI
2018
Breaking Ground: Indian Ceramics Triennale. Jawahar Kala Kendra, Jaipur, India
It's Not Too Much, Is It? Spotlight Gallery, School of Visual Arts, University of Oklahoma, Norman, OK
A Gifted Offering. Eutectic Gallery, Portland, OR
Courses taught by Jessika Edgar
Fall Term 2023 (current)
Winter Term 2023
Fall Term 2022
Winter Term 2022