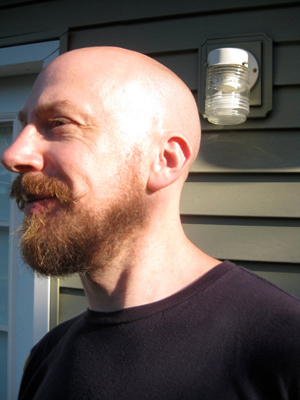 Adrian Hatfield
Associate Professor, Painting and Drawing
3141.5 Old Main
Biography
Adrian Hatfield's multi-media art examines the modes of visual communication developed within religion, science, and 19th century Romantic landscape painting, all of which endeavor to encapsulate or distill incredibly vast subject matter. His work presents science through the lens of mythology in order to celebrate the unknown. It borrows from scientific illustration and diorama, as well as religious shrines and altars. The work attempts to depict how the reductive nature of these languages reinforces the comforting illusion of a more complete understanding of their respective subjects.
Adrian has been showing his work both nationally and internationally for over 5 years. Solo and two-person exhibitions include "Altered States" at Jack the Pelican Presents in Brooklyn, NY, "Recent Work" at ARC Gallery in Chicago, IL, "King of the Impossible" at The South Bend Museum of Art and "Suitable Illusions" at the Northern Arizona University Art Museum. Recently, Adrian has been awarded at the NES Artist Residency in Skagaströnd, Iceland, and the SIM Artist Residency in Reykjavik, Iceland. 
Installation shot from Chimera: Adrian Hatfield and Amy Sacksteder January 23- February 13, 2016, Hamtramck, MI.
Homepage URL
http://www.adrianhatfield.com
Recent Publications
Solo and Two-Person Exhibitions
2016
Biggin Gallery, Auburn University, Auburn, AL, "An Exhibition by Adrian Hatfield", Solo Exhibition, May 9-Aug 25. Pending.
Popps Packing, Detroit, MI, "Chimera"

2015
Clara M. Eagle Gallery, Murray State University, Murray, KY, "Adrian Hatfield"
Neon Heater Art Gallery, Findlay, OH, "A Nighttime Hole in a Daytime Sky"

Selected Group Exhibitions
2015
Gallery Project, Toledo, OH & Ann Arbor, MI, "Wish List"
Maryland Federation of Art Circle Gallery, Annapolis, MD, "Eye of the Beholder"
River Campus Art Gallery, Cape Girardeau, MO, "Monumental Ideas",

2014
Manifest Gallery, Cincinnati, OH, "Tapped"
The Butcher's Daughter, New York, NY, "A Rose Is A Rose"
Jeffrey Leder Gallery, New York, NY, "Reality Distort"
Jeffrey Leder Gallery, New York, NY, "Works On Paper NYC III"
Popps Packing, Detroit, MI, "Explorations in Space Time"
Los Angeles Center For Digital Art, "Top 40"
Sylvia White Gallery, Ventura, CA, "Collector's Choice 2014"
Jeffrey Leder Gallery, New York, NY, "International Painting NYC III"
Giles Gallery, Eastern Kentucky University, Richmond, KY, "Beauty Matters"
 
Courses taught by Adrian Hatfield
Fall Term 2023 (current)
Winter Term 2023
Fall Term 2022
Winter Term 2022
Fall Term 2021