Faculty Spotlight: Graphic Designer and Musician Wesley Taylor, Emphasizes Design Justice, Community Building
The WSU Art Department is thrilled to welcome new Graphic Design faculty member Wesley Taylor. An interdisciplinary designer and fine artist, musician, filmmaker, and curator, Taylor holds an MFA in 2-D Design from Cranbrook Academy of Art. He taught at Virginia Commonwealth University before joining WSU.
Taylor's diverse skillset and extensive collaborations have established him as a critical member of the Detroit creative community. As a musician and designer, he has made many contributions to the Detroit hip-hop scene. Locally and beyond, he is widely recognized for building stronger bridges between design and social justice movements. He describes his projects as institutional grassroots initiatives.
A Mission to Nurture Talent
Taylor co-directs the artist space and residency Talking Dolls Detroit with Ron Watters and Andrea Cardinal. The mission of Talking Dolls is to "… empower our northeast Detroit neighborhood through justice-focused initiatives. We create a nexus of progressive art and community-led activism through access to our shop, artist studios, and gallery space for workshops, performances, and celebration."
Talking Dolls hosts artists including, most recently, multimedia artist bree gant from the west side of Detroit. Their artist's statement notes that a current project entitled Ore is "an investigation into temporality and process as performance, turning from the landscape of the city toward how we move through ourselves."
Talking Dolls Detroit is particularly focused on establishing and building stable spaces for creatives to flourish. "A lot of what I am working on currently is expanding public offering of creative space to the Detroit community through stable space with resources and facilities, as well as the ability to help nurture talent in and outside of institutions," he says.
While Taylor hopes to build stronger connections between Talking Dolls and WSU, he also applies that same sense of purpose to the classroom, providing a space for free exchange of ideas, discussion, and experimentation. "I like to think of my classroom as a lab," he says, highlighting its critical use as a place where there is "research happening and a free exchange of ideas." The lab model is rooted in collaboration and, vitally, a location "where students do not have to think of being competitive, but … doing research [that] is available for everybody to continue on with if they see fit."
Emerging Media, Ideas, and Approaches
Taylor is also a founder of Emergence Media, which has a far-reaching mission and purpose. According to its website, the organization "explores the power of creative expression to activate social transformation." They work with a core group of artists and projects, and a wide network of collaborative partners to produce music, multimedia, installations, tours, workshops, and special events. Taylor explains that while he initially started Emergence Media as a record label, with long-term Detroiters and activists ill Weaver/Invincible and Mike Medow, the work now extends far beyond that genre. "We started a music label that now supports creative initiatives across a lot of things. There is no one thing that Emergence Media is working on," he says.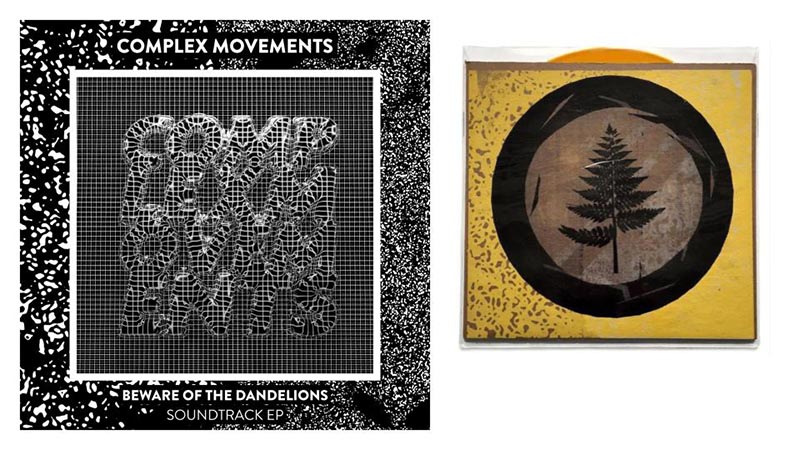 Taylor has collaborated with Detroit-based DJ and producer Waajeed, cultural strategist Sage Crump, Invincible, and the multimedia technology artist LO5 to form the creative team Complex Movements. Together, they constructed a science fiction- inspired immersive visual and sound experience using projections, music, and gaming. Their most acclaimed project was the mobile art installation and production Beware of The Dandelions, which occurred inside a 400-square-foot polyhedron pod structure. It was described by Emerson College film publication The Independent as "a science fiction parable in which the audience plays the role of post-apocalyptic survivors and unlocks the untold stories of their community." The project received funding from Mapfund, National Endowment for the Arts, and Knight Foundation. Its purpose was to apply complex scientific ideas to social justice movements, community work, and capacity building. The team developed an engagement strategy that was rooted in organizing and building community cohorts and advisory circles in the cities and places that the project toured.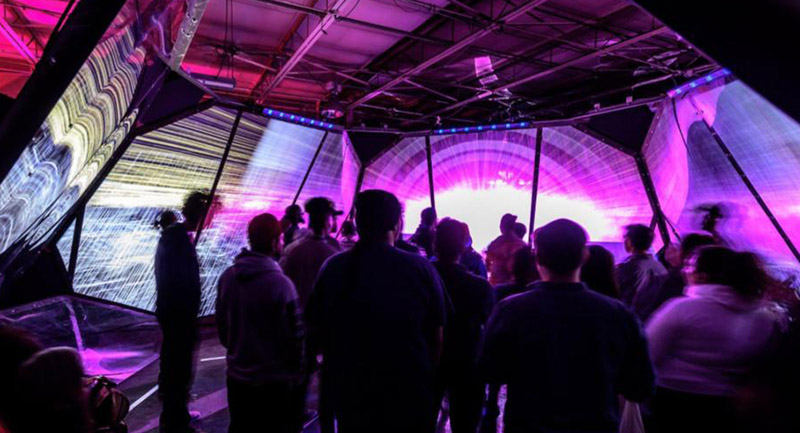 Today, Emergence Media is supporting efforts to create a legal framework for grassroots film work called the Reimagine Framework. Emergence is collaborating with directors, lawyers, and other stakeholders to develop "a document or process that is easy for people to plug in at the beginning, instead of facing issues at the end of a project." Taylor explains, "Often, there are a lot of problems that prevent projects from moving forward. This would enable them to grow legally and not deal with the boring — but necessary — side of art making." Emergence Media wants to support those projects and make sure that they happen. "We support internal projects and external projects that need support and logistical resources, like being a fiduciary partner and able to hold or accept grant money for artists."
Embracing Technology
As evident in his work with Emergence Media and Complex Movements, Taylor does not shy away from experimenting with emerging technology that challenges existing approaches to art and design. "I work with a lot of theoretical and contemporary approaches to art making and design making," he says. "Sometimes, these ideas might be kind of new and not really well established — they might be emerging ideas as opposed to tried and true, well-established ideas."
One example he shares is his efforts to incorporate Artificial Intelligence applications into the classroom, specifically for writing proposals for speculative designs. ChatGPT, for example, can be "an aid a way to think through design or anticipate design practices from these new technologies," he says. "Things move so fast, and there's so much hype around certain things and not a lot of information, so I think it's important to incorporate these things, leverage them in a critical way, and for the students to see if these are worthwhile tools to incorporate in their practices."
The exercise became a learning experience of the vulnerabilities of technology reliance. "They were working with AI in critical ways. Some students realized that there were holes in the ChatGPT, like that it was generating references that didn't exist. They learned that they had to use caution when using these tools, and were somewhat suspicious as they were using them. These were great, real-time discoveries for the students to have."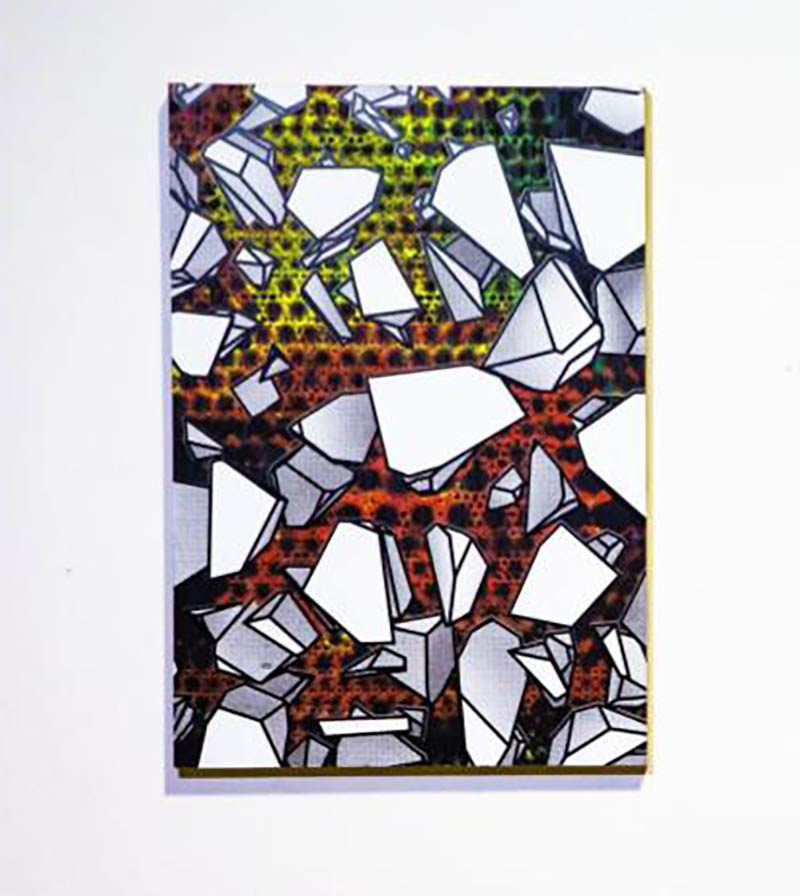 Building Design Justice
Within Complex Movements, Taylor continues to explore the role of design in supporting social change. His work with the Design Justice Network amplifies its process of using a set of principles that bring about more just and equitable design processes. This is especially important among the most marginalized individuals and communities that have been excluded from design processes and most adversely impacted by design decisions.
"The design justice network is a global community of design practitioners, and the designers can be expansive — from graphic design to product design, to service design and systems design, to architecture and city planning, or even creative coding and computational coding and UI/UX design. Those practitioners are all represented within the network, and they have all signed onto this set of 10 principles," Taylor says.
Bringing Design Justice to the Classroom
Taylor has worked to bring the idea and principles of design justice into the classroom, and he hopes to do more. He acknowledges some limitations to the fullest integration of a design justice curriculum at the undergraduate level, Taylor focuses on the opportunities.
"Where undergrads are concerned, the principles are not immediately aligned with their hopes of getting a job or employment, but they are not counter to it either," he says. "In the network, we have people … figuring out how to engage with their employment, coworkers, projects, or clients in ways that they might feel [are] at odds with those parties, but then [developing an opening for] a counter-conversation with those parties. Students may not necessarily have experienced some of these things yet."
Taylor recognizes that a design justice approach requires a greater complexity that may not align with the fast pace of a design classroom. "We want people to take into account more tolerances, more axes. It is not a single axis approach, but a multi-axis approach," he says. "We want designers to slow down. In school, there's an acceleration to get stuff done really fast. By the time you account for many of the aspects that design justice asks you to consider, it becomes very difficult to fully engage with design justice in a classroom."
While design justice in the classroom may be a longer-term goal, Taylor is currently focused on bringing the city into the classroom in meaningful ways. He wants to show WSU students how Detroit can help make theoretical ideas more tangible — by utilizing specific resources that the city has to offer and discussing their work within the broader context of the city.
"I like to incorporate real-world material and experiences," he explains. "If we're working on projects with archives or collections, then I fully encourage my students to go visit them in person. They can then see, even locally, how a design concept or something conceptual gets used in the real world, and how those things are very much immediately available to them. When we're talking about a concept, they can see how it is alive in the City of Detroit."
Ultimately, Taylor sees his return to Detroit and WSU an opportunity to strengthen the connections between his work and his network. "At Wayne State, [I can] bring a lot of my worlds together, and I am really excited about that. Having multiple worlds means I have multiple approaches, and I'm dealing with multiple mediums and different groups of people. Being able to combine those things at opportune times increases tenfold through Wayne State …. The work that I'm doing exists on different planes, and I'm still exploring the best way to translate to the classroom experience. As some of these things begin to mature, I am finding ways to incorporate them into the classroom more efficiently and effectively. I am excited about being a part of the growth of people's practices."
Links:
https://designjustice.org/about-us
https://talkingdollsdetroit.com/
https://inst-int.com/speaker/wesley-taylor/
https://independent-magazine.org/2016/03/22/10-filmmakers-to-watch-complex-movements/