Alumnus Spotlight: Max Jurcak Combines Graphic Design and Illustration as a Wallpaper Designer
Completing his BFA in 2021, Max Jurcak entered the job market at an unusual time. Graduation took place when the country was in COVID isolation and when, for many, significant life experiences were taking place virtually. The job market was challenging, but Jurcak applied a methodical approach to his search for a position that would utilize his degrees in Painting and Graphic Design and minor in Illustration.
"I created a list of every job that I had applied to and noted when I should follow up," he says. "I think I applied to close to 100 jobs before I had any promising leads." He eventually landed an interview with The Detroit Wallpaper Company (DWC), a 17-person environmental graphics company that specializes in custom wallpaper. Founders Andi Kubacki and Josh Young started Great Wall Custom Coverings in 2004 and carved out a niche for themselves in the industry with a focus on their patterns, colors and customization to eventually launch The Detroit Wallpaper Company in 2012.
Jurcak has always enjoyed working in traditional and tactile mediums, whether it's silk-screening clothing in his spare time, drawing with charcoal, or painting canvasses on the weekend. His focus on traditional medium is the perfect fit for wallpaper design. "I am constantly drawing. You will never find me without a pencil on me," he says. "In all of my processes, I really try to keep it grounded in the physical realm and less in the digital. Professor Schudlich called this "tradigital." For me, the piece of paper and a pen is definitely the biggest part of my process."
Designing with DWC
Jurcak was a great match for DWC. "From looking at my website, Andi had expressed interest in my illustrative style that is in a lot of my work. I think that goes hand-in-hand with the customers and types of things that people bring to our door every day," he points out. Jurcak sent a follow-up to the interview that set him apart and made a genuine connection. "I had read that you're supposed to send an email or letter, but I thought that was a little bit formal, so I sent them a postcard because I thought that was a cool way to keep it visual."
"Being surrounded by creatives all the time and the open studio access, where you can make a mess," has been a highlight of the job. Today, the tight-knit team of coworkers, commitment to wellbeing, and benefits of a small-business environment contribute significantly to his job satisfaction.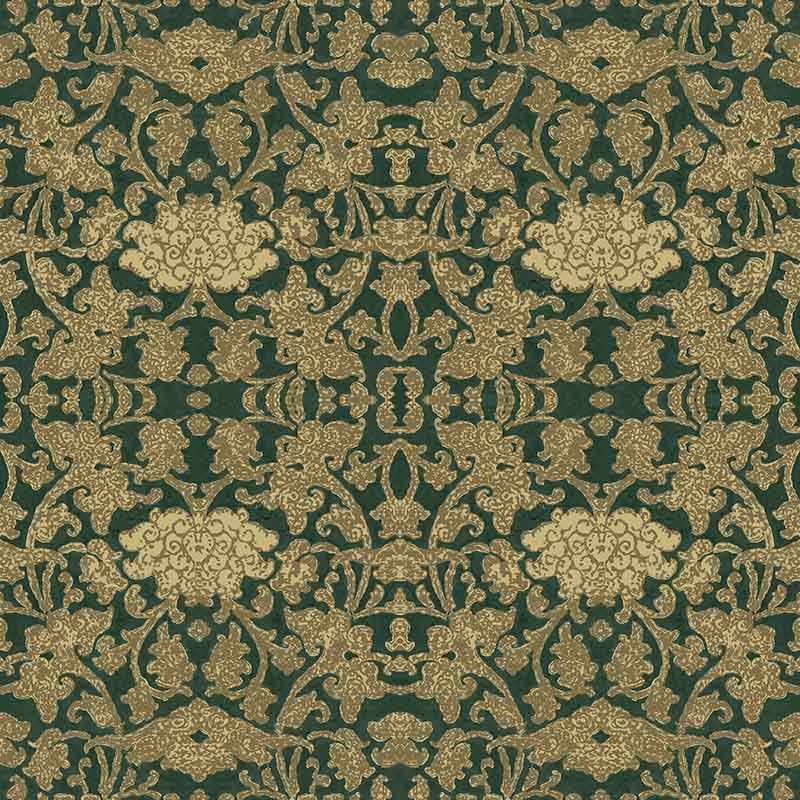 DWC provides a collegial environment of passionate, creative team members united in their desire to innovate. "I like the colorful nature of the job and working within such a creative industry with so many talented artists. We have a huge list of clients and private labels that produce wallpapers through us that are not our brand's wallpaper. So we produce some of our contemporaries' wallpapers, some who are the biggest creators in the market. When they send their stuff through us, and we're able to see what's hot and cross pollination is a nice benefit. I really like being exposed to that."
Jurcak enjoys working with clients and getting them the results that they are looking for. "In certain cases, we'll have people come in with a concept, and they might want to create a stripe, or they have a stripe in mind. Maybe it's an ornate design that has been discontinued. We'll quote a job and say how much design time we think it would take to create something similar. But we try to keep it different enough. We take care not to infringe on copyright. People might hire us to create a stripe, and that gives us the opportunity to create a new product potentially while also answering somebody's design question."
DWC's custom work is an opportunity for Jurcak to merge his interests in technique and artistry. To recreate a discontinued wallpaper for a client, he says, I might take a piece of tracing paper onto it and, with a pen and light box, trace it onto a toothy paper and create something that has grain or just looks a little bit more traditional. I'll then scan that and turn it into a repeat digitally. Now it has those aspects of a handmade thing." This also evokes the wallpaper's handprinted history. "A lot of wallpapers will have imperfections and differences, even though it's a repeating piece of math. It's nice to see those little imperfections," he says.
Even though the designs that he works on are not always entirely his concepts, Jurcak sees this as part of the process of developing as a designer. "Many of the wallpapers that I will create won't be consistent thematically or stylistically, because they're answering other people's desires. I'm still developing my voice as a wallpaper designer, but I would say that if any student is interested in becoming a wallpaper designer, create a distinct voice. For example, you are strictly creating Damask prints, you would get really good at that, and you would find your vein there."
Reflecting on WSU
In many ways, DWC echoes the experience that Jurcak had at Wayne State University, where he enjoyed a strong sense of community and "friendly, approachable, passionate, and knowledgeable" faculty. Jurcak also feels that the technical aspects of his design education at WSU has helped him most in his job today. "A lot of what we do is very technical, like getting repeats to line up or getting multiple layers, screen prints to line up in. It's very similar to fine arts," he explains, emphasizing the benefit of his WSU education.
The technical aspect of printing involves a developed understanding of the print production setup, from measurements to color matching. "If you have a repeating pattern, for example, you need to know the factors of a 52-inch-wide material, or whatever roll of material you might be using, so that you're able to have your repeat stack evenly within 52 inches," he explains. Translating RGB on screen to CMYK in print, and ensuring that it matches the original designer's vision requires a methodical approach as well as skill with particular tools such as color spectrometers, which Jurcak describes as a digital scanning eye that provides a lab color breakdown of a paint chip. "It becomes an interesting blend of physics, light, color theory, digital science, mathematics. It really is all encompassing," he says.
Advice to Students
Jurcak recognizes a great opportunity for illustrators and designers to explore the profession of surface pattern design. He wants to encourage students to consider the possibilities. "I believe there's a very big market for surface pattern design in general. You could be somebody who loves painting fruit or butterflies, or whatever it might be. Any single thing that you can create that looks cute, or that looks good, or that is just a decent motif or idea at all has the potential to make a good pattern. As a surface pattern designer, you could be creating fabrics for clothing or bags or housewares or wrapping paper. It's a weirdly expansive industry and there's a lot of potential."
Jurcak's advice for art or design students is to, "follow your passion and make the work that you want to make. If you build it, people will come. If you like making repeating patterns or anything else, you'll find a way to do it. If you're interested in creating band posters, do that! I'm glad that people are able to carve those paths out for themselves. That's why I got into art and that's why I stay in it. It's a noble thing to do, because I wouldn't want to live in a world without art, without music, without dance or theater; it would be really boring here."
Links:
https://www.behance.net/maxwelljurcak/projects