Wayne State's Hilberry Gateway kicks off inaugural season in new space, 'Silent Sky' opens Sept. 29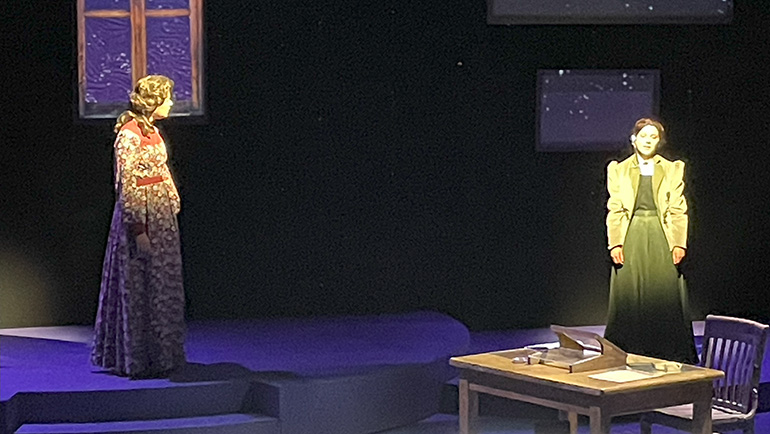 Join in the fun and celebrate the Hilberry Gateway's inaugural season for one (or all) of the exciting shows. Carefully curated, the selection of performances will captivate, inspire and engage both the Wayne State University and surrounding Detroit communities.
The upcoming 2023-2024 season for the Maggie Allesee Department of Theatre and Dance promises to be a remarkable one, filled with a diverse range of productions that showcase the incredible talent of WSU's dance and theatre students and faculty.
Starting the season on Sept. 29 is "Silent Sky," the true story of 19th-century astronomer Henrietta Leavitt and a team of female "computers" who made groundbreaking discoveries about the fluctuating brightness of stars, enabling fellow scientists to map the Milky Way and beyond. "Silent Sky," which runs through Oct. 15, celebrates the passion and sacrifice of the women who redefined our understanding of space.
And the stage isn't the only place to be part of the "Silent Sky" run. Events throughout October will be held in collaboration with the WSU Planetarium, the Society of Physics Students, and the Department of Physics and Astronomy.
On Oct. 7, the Society of Physics Students will present science demonstrations at 1 and 7 p.m., prior to the 2 and 8 p.m. performances. On Oct. 15 at 2:30 p.m., astrophysicist Ed Cackett, chair of the Department of Physics, will deliver a 30-minute pre-show talk about the life of Henrietta Leavitt and her importance to the field of astronomy.
These collaborations have been carefully cultivated to enhance the understanding of science and the world of the play.
"We are not only excited to do this show but also expand our audience base with this connection to physics and astronomy, along with the demonstrations and talk by Ed Cackett," said Hasan Elahi, dean of the College of Fine, Performing and Communication Arts. "This further reinforces that the arts reach across and connect many disciplines at this campus."
Please see below for the entire upcoming season schedule:
Fall 2023
Winter 2024
For the uninitiated, Wayne State's newest gem on campus — the Hilberry Gateway — is a state-of-the-art facility designed to enhance the theatre-going experience for students, faculty and the wider community. With its cutting-edge technology, adaptable performance spaces and comfortable seating, the Hilberry Gateway is the ideal venue for upcoming productions and represents a significant step forward in the university's commitment to providing a world-class education in theatre and dance.
Stay informed with all the latest at the Hilberry Gateway, including performance dates and special events surrounding the season, by subscribing to the Theatre and Dance newsletter or by following on social.
Media Contact: Shawn Wright | shawn.wright@wayne.edu