Juanita Anderson short film to premiere March 24 on PBS's 'American Masters'
A documentary by Wayne State University's Juanita Anderson will have its national broadcast premiere during an upcoming episode of American Masters on PBS.
Anderson's short film, "Sydney G. James: How We See Us," explores the work and process of visual artist Sydney G. James, whose murals and large-scale paintings amplify the status of Black women in society, address police brutality, and celebrate the Black family and community through bold brush strokes and hues that evoke Black reality, joy, pain and resilience.
The film — which can be seen at 10 p.m. Friday, March 24, on Detroit Public Television (Ch. 56) — is set in James' hometown of Detroit, where she draws inspiration. Through her activism, James has also become a space maker for Black artists and the city's people.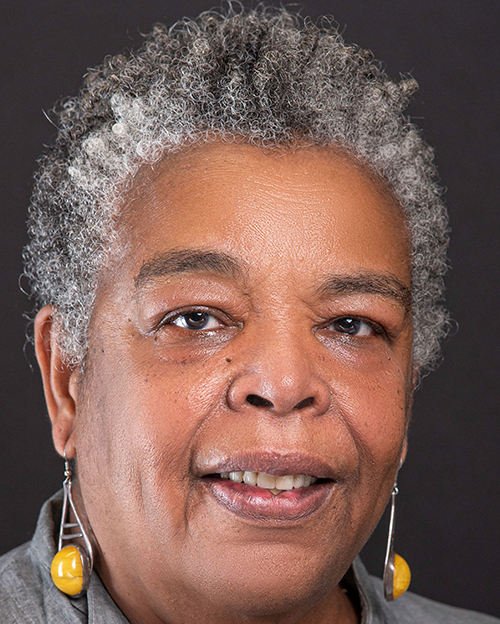 "While I could go on about the many facets of Sydney's process — the intricate patterning she creates as prelude to her murals or the multiple layers of color she uses to render the distinctive pigments of Black skin," said Anderson, head of media arts and studies in Wayne State's Department of Communication, "it is her process of space making to which I am particularly drawn. As Black women creatives, we all too often have to create the space to do our work and, in doing so, we create space for others."
"Sydney G. James: How We See Us" premiered on Feb. 12 at the Pan-African Film Festival in Los Angeles before playing the Big Sky Documentary Film Festival on Feb. 20. The film premiered on PBS's digital platform on March 21 and will screen later this month at the Cleveland International Film Festival.
The PBS broadcast launches the second season of the Firelight Media/American Masters short film series In the Making, which follows the lives and journeys of emerging cultural icons who bring insight and originality to their artistic craft. Hosted by Audra McDonald, the episode also features opera singer J'Nai Bridges and country music artist Rissi Palmer.
"I'm truly honored that 'Sydney G. James: How We See Us' was selected as one of nine films nationwide to be commissioned for season two of In the Making," said Anderson.
Anderson's creative work is concerned with the communities and cultural histories of people of African descent, the role of the arts in society and the responses to social injustice that amplify the voices of communities too seldom represented on screen.
She is best known for her work as executive producer of the 1988 Academy Award-nominated feature film Who Killed Vincent Chin? by Christine Choy and Renee Tajima, which garnered a duPont Columbia Silver Baton and a Peabody Award and was inducted into the National Film Registry in 2021.