Juanita Anderson among documentarians worldwide to receive Ford Foundation's JustFilms grant support
Juanita Anderson is among a select few across the globe to recently receive a grant from the Ford Foundation's overall funding for independent documentary film in 2022.
One of the largest documentary funds in the world and part of the Ford Foundation's Creativity and Free Expression (CFE) program, JustFilms provided more than $4 million to support 68 innovative film projects in the United States and around the world centered on social justice issues.
"I'm truly honored to be among the independent filmmakers whose work in social justice documentary is being recognized and supported by the Ford Foundation's JustFilms initiative," said Anderson, head of media arts and studies in Wayne State University's Department of Communication in the College of Fine, Performing and Communication Arts. "And I'm thrilled to be collaborating with writer/performance artist Marsha Music [Marsha Battle Philpot], whose passion for Detroit, its music history and her father's legacy will invigorate this story."
Anderson is directing and co-producing, alongside Marsha Music, the documentary Hastings Street Blues, which chronicles the vitality and complexity of mid-20th century African American life in Detroit.
Together, they weave the story of Joe's Record Shop on Hastings Street, its owner Joe Von Battle and the blues music he loved, produced and recorded into a dynamic multi-voiced and visually rich narrative that contrasts the self-determination and ultimate displacement of a Black community amidst unprecedented migration, racial turmoil, civil rights progress and urban "renewal."
"The story that we are committed to bringing to film is not only a significant part of this nation's history, but also a story that impacts our present and future," Anderson said.
Production for Hastings Street Blues, which was awarded seed funding from the Knight Foundation, was thwarted for a significant period due to the pandemic. "Even after arriving at viable COVID protocols for independent filmmakers, we just could not put our elders who were living witnesses to this history at risk," said Anderson.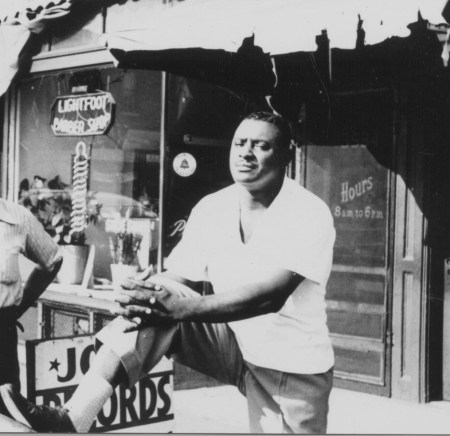 Anderson noted that Dr. Melba Boyd, distinguished professor of African American Studies at Wayne State University, has agreed to join the project's team of advisors, which also includes Detroit City Historian Jamon Jordan, journalist Ken Coleman and Detroit storyteller/musician Rev. Robert Jones Sr.
"Funding from the Ford Foundation, in concert with a WSU Arts and Humanities Award for the project, will enable us to delve deeply into the historical record and to complete principal photography on the film with a top-notch research and production team," Anderson said.
In total, Anderson and 67 documentary film projects were supported this year, which includes 43 filmmakers with new projects and 25 continuing support grants for films previously funded. This year's funding went toward a cohort of films linked by their social, political, and creative ambition to elevate artist-centered filmmaking and spur social action. Of the 68 film projects, 70% of the grants were made to filmmakers identifying as Black, Indigenous or people of color (BIPOC). These projects spanned the foundation's global offices and included works from the United States, Brazil, Mexico and beyond.
"We're privileged to support the ecosystem of independent documentary filmmaking that looks to amplify social justice causes," said Jon-Sesrie Goff, program officer for JustFilms at the Ford Foundation. "I'm proud of how these projects further illustrate the complexities of the moment we're all in now, offering unique perspectives that allow audiences to peer deeper into the stories that shape and define our realities today."
The full list of documentary film projects supported by JustFilms in 2022 can be found here.
Story by Shawn Wright, Communications Officer for the College of Fine, Performing and Communication Arts.