'Black Panther: Wakanda Forever's' Ivy Haralson epitome of Warrior strength
"Fearlessness means taking the first step, even if you don't know where it will take you." – Chadwick Boseman
It wasn't until Ivy Haralson arrived on the set of Marvel Studios' Black Panther: Wakanda Forever, dressed in full costume as one of the Dora Milaje — an elite group of all-female warriors — that she realized it wasn't a dream.
"I couldn't believe I was there. I remember walking off the set for the first time thinking, 'This is amazing.' I could hear the Black Panther music playing in my head," Haralson said. "And anywhere we (the Dora Milaje) walked at that point in costume, people were excited to see us. It was finally all coming together. For me, it was a very surreal experience."
But to reach the Kingdom of Wakanda, a fictional country in East Africa, Haralson had to take many steps — and stunts — around the world.
Originally from southwest Detroit, Haralson's parents moved the family when she was in elementary school to Belleville, Michigan. Growing up, sports and athletics — not theatre — was her first passion. Acting didn't take center stage until senior year in high school. Little did she know how well the two would combine.
"At that time, I became really interested in plays and started to learn about the theatre program at Wayne State," Haralson said. "I realized I didn't have to go super far to get a great experience, especially with potentially being able to perform at the Hilberry Theatre, where I had the opportunity to do a few shows as an undergrad. When I got here, I knew I made the right choice. I remember thinking, 'This is where I belong.'"
During her time in the Maggie Allesee Department of Theatre and Dance — from 2009 until 2013 — Haralson appeared on the Bonstelle stage as Viola in Twelfth Night, Catherine in Pippin and as a Dynamite in Hairspray, among countless other roles. She also appeared on the Hilberry stage as Harpo Marx in A Day in Hollywood/A Night in the Ukraine and Peaches in The Cider House Rules.
"Everyone who speaks about Ivy comments on her work ethic, creativity, kindness and generosity," said Mary Anderson, chair of the Department of Theatre and Dance in the College of Fine, Performing and Communication Arts, who also had Ivy for a student. "She's an incredible star, but she's also an ensemble player because she's all about making everyone else on the production look good, too."
But that starlike quality would not have come to fruition had Haralson not taken the steps forward.
From ingénue to villain
After college, Haralson, like many stage actors, left for the bright lights of Broadway. She had a few callbacks for the musical Book of Mormon, did some small play readings and such, but nothing serious materialized. Soon, she fell out of theatre and started bartending before managing bars. Her theatre friends were still there, though. Randomly, one saw an audition for a superhero stunt spectacular show and encouraged Haralson to tryout.
"All of my theatre friends said, 'You're the athlete, you must go. You have to do this.' One of them even told me if I didn't go to the audition, we couldn't be friends anymore," Haralson joked. "I was hesitant because I'd been out of the game for so long. I wasn't acting, I wasn't performing. But my friend said I needed to go do this."
The push paid off. Even though it was extremely physical, Haralson made it through several rounds of cuts to the end. She gained confidence, realizing "I haven't done any of this in years and I'm still able to get this far." She credited her time with WSU's Department of Theatre and Dance with introducing her to stage combat.
"I remember they had Jay Burkhart from the Fight Factory in Chicago come do a seminar on stage combat. It was the first time in my life I realized I could be athletic and perform," Haralson said. "It was then I knew I was made to do this and what I should be doing."
Haralson ended up booking the job on Marvel Universe Live's European tour, playing the role of the superhero Storm. "Not only was it my first-ever job, but I was able to tour all over Europe," Haralson said. "That was the first chapter."
Doing stunts on stage while having a microphone taped to the side of her face also had Haralson recall more of her WSU theatre training. "I'm very thankful to Michael Barnes for all the voice and breath work I did with him because that helped me perform in the live shows. It's the reason I know how to control my breath and my energy."
Barnes, an associate professor in the Department of Theatre and Dance, not only put Haralson through rigorous breath training exercises but also directed her in a few performances.
"Ivy was always a joyous person to work with. She was one of those students who came into class and threw herself into the material," Barnes said. "She was always in tune with her body, so she was able to incorporate things well and quickly."
But while touring as Storm and various "goons" on the Marvel Universe Live circuit, Haralson's dream almost ended as quickly as it began after she broke her ankle. "I was extremely disheartened," she said. "I had always dreamed of this moment and then this happened."
Haralson went back home to heal, while also adding a few more skills she didn't have prior. The show's organizers told her if she felt better in time for the next contract round, they would give her an offer. In the end, they couldn't.
"But the beauty of it is I started doing things I wasn't before, like acrobatics and gymnastics, with the idea I would get offered a contract," Haralson said. "But because I didn't, I was able to get a different job. A little while afterward, I was offered a contract with Mirage Entertainment, another live stunt show entertainment company."
Haralson went to Dubai for three months of knife fights, using a bullwhip, rappelling and more. "I was like, 'Whoa, this is a lot,'" Haralson joked. "But I ended up saying yes to that. I learned a lot in Dubai."
Immediately following the contract's end, the company sent her to China, where she made huge leaps and bounds. "I was just an athlete before that," she said. "Now, I'm trying to learn things such as acrobatics and all of these specialty skills that I have no background in. China's where I started to really grow the most."
It's also where Haralson would embrace more of the "bad guy" role. In China, for example, the show's original main villain character was written for a man. But after seeing Haralson perform, the producers had a different thought and asked if she'd play the lead. She knew they were serious when they brought a woman in to rerecord the character's entire voiceover.
"That's when I realized I was different than most stuntpeople, in that my background is acting. My favorite part about doing stunt shows is the acting," Haralson said. "I like bringing characters to life. Not only performing the stunts and the physical aspects, but making them believable characters."
And a far cry from the roles she played back in Detroit.
"When I was at Wayne State, I was always cast as an ingénue — a nice and happy girl. But when I got into stunts, it was the complete opposite. I've always been asked to play bad guys," Haralson said. "And to me, it's a compliment because the bad guys are the ones who make the heroes look good. They know how to react, and they know how to act. I love that about my job."
After eight months in China, Haralson's contract ended. Back in New York, she searched for the next step. On a whim and some encouragement, she went with a friend who was auditioning for a new Cirque du Soleil show. Despite not being on the list, Haralson was asked to audition anyway. In the end, she and her friend were the only two offered the job. The gig with Cirque du Soleil ended in March 2020, just as the pandemic began. Haralson moved back home in Michigan to be with her parents and consider her next steps.
"I think one of the main ingredients to Ivy's success is her genuine curiosity and sense of discovery," Anderson said. "She sees that every opportunity that comes her way is an opportunity to discover something about that experience, herself in the experience and what she has to offer."
Wakanda and beyond
In January 2021, a friend of a friend called Haralson to get her a job in India for a Bollywood film. "It was my first movie, as far as stunts go, because I had only done live shows up until that point," Haralson said. "And that was wild, another culture shock. I was able to go all over and see India, during a time when there were absolutely no tourists in the country because of COVID."
After filming wrapped, her coordinator booked another job in India. Haralson began to shoot a second Bollywood film called, Liger, and "one of the girls in the production and I were talking about what was going on back home. I mentioned I really wanted to get on Black Panther 2," Haralson said. "It was going to be in the summer, so I needed to put feelers out to figure who was coordinating that movie."
Haralson ended up connecting through Instagram with Aaron Toney — a longtime Marvel Studios stunt performer who doubled as Anthony Mackey's Falcon ever since Captain America: The Winter Soldier, along with stunt roles in Black Panther, Guardians of the Galaxy and more.
"We had messaged back and forth in the past, but Aaron and I weren't close or anything. I figured I would just reach out," Haralson said. "I messaged him and asked who was coordinating Black Panther 2 so I could submit my stuff and, at least, put myself out there. He responded it was him and to send it over."
Shortly after, Haralson received the congratulations email that she would be one of the Dora Milaje (pronounced "DOR-ah muh-LAH-jay").
"When the first Black Panther movie came out and I learned who the Dora Milaje were, I knew immediately that it was what I was meant to do with my life," Haralson said. "If ever there was something I had been working toward that culminated into one person, it would be a Dora Milaje."
Marvel's Dora Milaje are not enhanced individuals, nor do they have superpowers. Instead, their fighting skills come from years of training, using weapons and armor made of vibranium, a fictional, near-indestructible metal in the Marvel universe.
And to become one of Wakanda's elite group of warriors, Haralson and her fellow Dora Milaje endured similar intensive training.
"During the production, we trained like crazy. We ran every morning, anywhere from one mile to two miles in Atlanta. Outside. In the summer," said Haralson, who also shaved her head every day for the role. "We did a lot of different drills to get our legs strong and become comfortable with the weapons. It became a studio-wide known thing that the Dora train every morning, running around the studio."
Filming for Wakanda Forever originally first began in June 2020, but it was a year beset with COVID-19-induced tragedy. And when Chadwick Boseman passed away at age 43 in August of that same year from stage-four colon cancer, castmates and fans mourned the death of the actor. The crew had to readjust the script to account for the loss. The film's director, Ryan Coogler, decided not to recast Boseman's King T'Challa or use a CGI rendition of his character in the sequel. Instead, Coogler restructured the Black Panther 2 story to memorialize the actor.
"When it comes to the loss of Chadwick, I remember when I found out he passed away. I was crying," Haralson said. "He gave a lot of us the opportunity to see someone who looks like us as the hero. Being on set without Chadwick, you could feel it. You could feel that it was heavy, but it was a feeling of we must do this for him. We must uphold the legacy of what this is and what it means to people to have hope that it will continue, even though a big part of it is missing."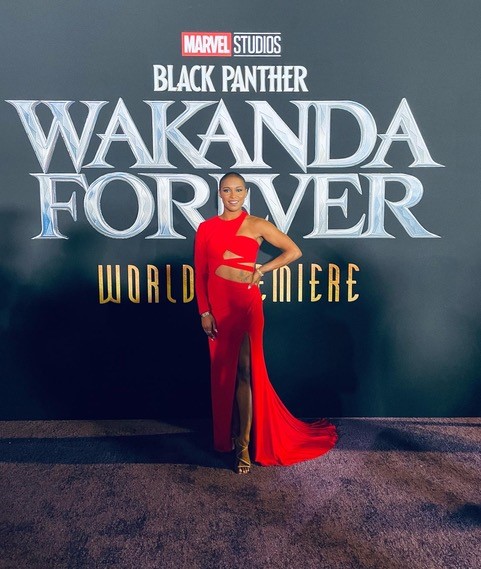 Since leaving the Black Panther: Wakanda Forever set, Haralson said she's been fortunate. Even prior to the movie's Nov. 11, 2022, theatrical release date, everything has snowballed for her.
In February 2022, after putting away her Dora Milaje costume, she immediately flew to Spain to work on Peacock's original series Vampire Academy for about six weeks. Directly afterward, she flew to Budapest to work on another show called The Continental, a prequel to the successful John Wick movie franchise starring Keanu Reeves.
"One of the big things I realized when I went to New York after leaving Wayne State was how many of the successful Broadway actors were just showing up," Haralson said. "We can be perfectionists, as performers, but sometimes you must be okay with looking dumb in order to grow. It's difficult, but that's a big theme in my life. The only way I've ever grown is that I must be okay looking silly and continue to put myself out there."
Story by Shawn Wright, Communications Officer for the College of Fine, Performing and Communication Arts.